RESISTANCE CINEMA presents "INVISIBLE WAR: DEPLETED URANIUM & THE POLITICS OF RADIATION" A Canal Plus production , Producer Martin Meissonier 2001, 65 minutes
WHEN: Sunday January 4th 2009
WHERE: Community Church of NYC, Gallery Room 28 E. 35th st. @ Park ave.
ADMISSION: Free; donations appreciated
SPECIAL GUEST SPEAKER: Melissa Sterry; Former U.S. Army Specialist, Persian Gulf War
Invisible War investigates the use of depleted uranium (DU) munitions by UN and NATO forces — in particular the US — in Iraq and Kuwait in 1991, Bosnia in 1995, and Serbia and Kosovo in 1999.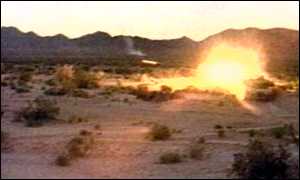 DU is a cheap and plentiful by-product of nuclear power and weapons programs (not just weapons programs as this documentary states). It is used because it pierces armour like no other metal can. About 270 tons were used in the Gulf War, and a total of about 20 tons in the Balkan wars in 1995 and 1999. That much is on the record, the rest of the story remains hidden by NATO/UN/US secrecy and obfuscation.
Invisible War skillfully tackles the complicated debates concerning the health effects of DU (both radiological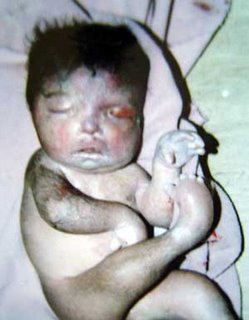 effects and heavy metal toxicity). It gives plenty of time to the "official" voices who trot out the usual absurdities, which are neatly debunked by DU experts including ex-US army whistle blowers.
The political maneuvering is also exposed. Secret military reports warning of the health risks of DU are revealed, the Clinton administration's failure to act on a 1993 US Congress directive to research the health effects of DU is reported and the demonization, sacking and jailing of honest scientists is exposed. Compliant scientists have been feted and funded.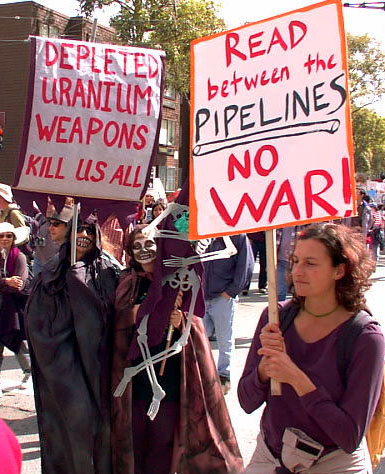 A strength of the documentary is its linking of the personal and the political. We see US army top brass in protective clothing in Iraq while rank-and-file army personnel remain unprotected; many soon became sick. NATO spin-doctors squirm when asked about their (non-existent) plans to clean up DU contamination in Serbia and Kosovo in 1999. We see a US Gulf War veteran visit Iraq in 1998 and meet Iraqis with the same symptoms as hers.
Melissa Sterry is a Persian Gulf War veteran who says exposure to depleted uranium dust ruined her health. In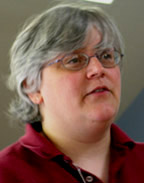 2005 she took her case to the United Nations, together with members of the Military Toxic Project, a group raising international awareness of the long-term health dangers posed by munitions, particularly those with environmental or radioactive effects. She has also testified about veterans' needs before the Veterans Disability Benefits Commission in Washington, D.C. and has addressed the Connecticut's General Assembly. She lives in New Haven.
All Contents Copyright ©2006 Russell Branca. All Rights Reserved.