RESISTANCE CINEMA Presents "DETROPIA" a LOKI FILMS Production, with THE FORD FOUNDATION/JUST FILMS and ITVS, a film by HEIDI EWING and RACHEL GRADY, Executive Producers DAN COGAN, DAVID MENSCHEL, Producer CRAIG ATKINSON, (2012, 85 minutes)
WHEN: Sunday February 17, 2013 - 1:15 pm
WHERE: Community Church NY Gallery Room, 28 East 35th St. btwn Park & Madison Aves.
ADMISSION: Free; donations appreciated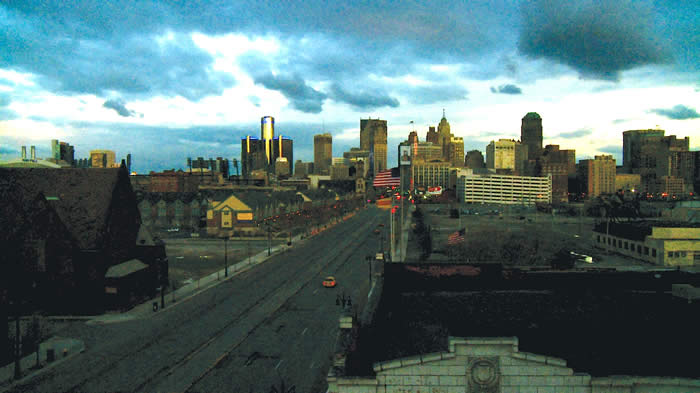 In the 1930s Detroit was the fastest growing city in the world. Today it is the fastest shrinking. This dramatic decline, a consequence of the well known collapse of the auto industry and of manufacturing in America, would seem like the perfect subject for a documentary in the hard hitting journalistic investigative style used in so many other films today. But from the film's opening with the sounds from the Detroit Opera House, a far more lyrical sonority is established.
Plaintive yet free of self pity, the film gives ample space to the subtleties and nuances in the lives of the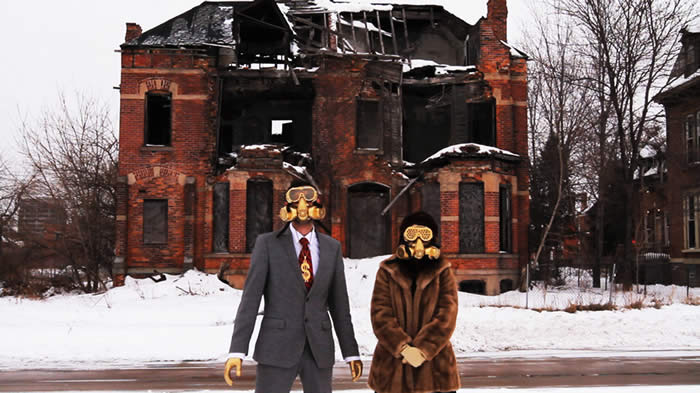 city's residents trying to cope as well as the more raucous Town Hall meetings, the frustration of the Union workers facing massive humiliating pay cuts, or the demonstrations against cuts in city services. Through it all the filmmakers demonstrate a keen sensitivity. They manage to capture a rare poetic beauty in the spirit of those who remain behind despite the demoralizing landscape of abandoned homes and businesses.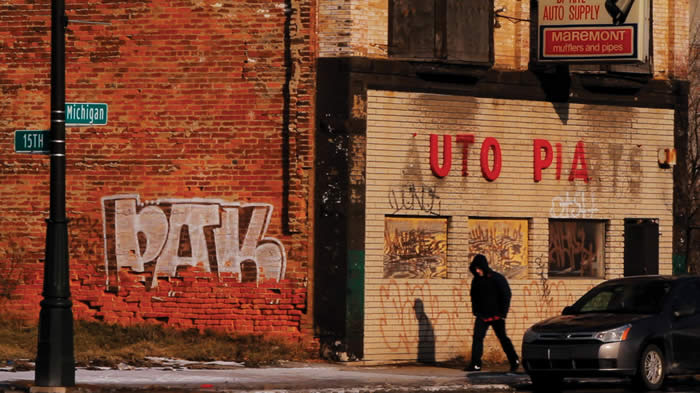 Detroit's story has encapsulated the iconic narrative of America over the last century— the Great Migration of African Americans escaping Jim Crow; the rise of manufacturing and the middle class; the love affair with automobiles; the flowering of the American dream; and now . . . the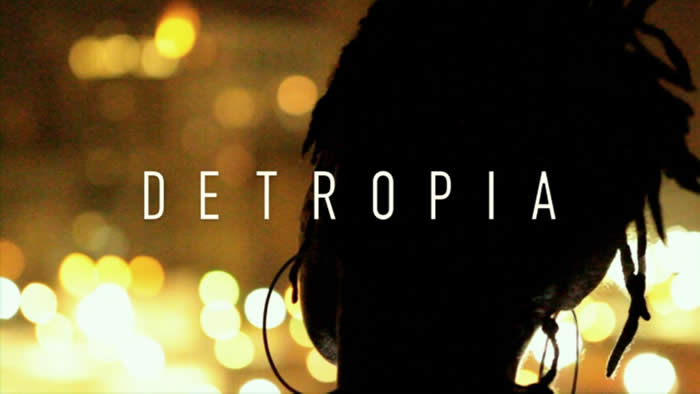 collapse of the economy and the fading American mythos.
With its vivid, painterly palette and haunting score, DETROPIA sculpts a dreamlike collage of a grand city teetering on the brink of dissolution. These soulful pragmatists and stalwart philosophers strive to make ends meet and make sense of it all, refusing to abandon hope or resistance. Their grit and pluck embody the spirit of the Motor City as it struggles to survive postindustrial America and begins to envision a radically different future.
All Contents Copyright ©2006 Russell Branca. All Rights Reserved.